BOOKS ON IMPORTANT SOCIAL ISSUES


The Crisis of Democracy
by Crozier, Huntington and Watanuki for the Trilateral Commission.
New York University Press, 1975
Bound by Minsky 1980
8 3/4" x 6" x 11"
Sheep, gold, barbed wire.
The authors propose that there is too much freedom in contemporary democracies, and that it is necessary to curtail personal freedoms in order to preserve the governability of democracies. In 1980 the choice in the USA presidential elections was of three teams, all of which included at least one member of the Trilateral Commission. I exhibited this book as a political comment, choosing the materials to reflect the metaphor of the text.


The Geography of Hunger
by Josue de Castro. New York, 1952
Bound by Minsky 1988
9" x 7" x 3"
"Friendly Plastic," acrylic, endpapers of food and dog food labels.
Click the image for the regular view, or look at the sharper (200K) jpeg version.
The author was Chairman of the Executive Committee of the Food and Agriculture Organization. His conclusion is that the countries of the world are all capable of feeding their starving populations, but don't for political reasons. The binding is moulded and carved plastic, with a world map in acrylic paint-- the mouth of the world. The endpapers are labels from food cans bought at my local bodega, from countries where the people are starving and we get their food, and labels from Mighty Dog Gourmet Dog Food, because in this country there are old people who eat dog food and dogs who eat better than many people in the world.


Tragedy and Hope
(a History of the World in Our Time) by Carroll Quigley. MacMillan, 1966
Bound by Minsky 1988
9" x 6 3/4"
Kid vellum (tanned by the artist) over collage and acrylic, gold title.
Under the lampshade skin, dollars become swastikas on the world map.


Missile Envy
by Dr. Helen A. Caldicott. William Morrow & Co., 1984
Bound by Minsky 1988
9" x 6 3/8"
Calf spine, gold stamped. Oil and gold leaf over gessoed boards.
The real motivation behind the arms race.




Laying Waste
by Michael H. Brown. Pantheon, 1980
Bound by Minsky 1988
8" x 5 3/4"
Trade binding with hypodermic needle, crack caps, condom, collage (the artist's toxix lacquer thinner label), acrylic and phosphorescent paint. Photos show full light, dim light, no light.
Subtitled "The Poisoning of America by Toxic Chemicals," this book is by the journalist who exposed Love Canal.The binding adds materials which relate to how we poison ourselves. The phosphorescent image, invisible in normal light, is a glowing death's head in a river of radioactive waste.


Holy Terror
(The Fundamentalist War on America's Freedoms in Politics, Religion and Our Private Lives) by Flo Conway and Jim Siegelman. Doubleday, 1982
Bound by Minsky 1988
9" x 6"
Black Nigerian goat and Hewit calf, gold and metal foil stamped.
Case binding.
"Minsky 88" in pencil, inside back cover


Holy Terror
(Inside the World of Islamic Terrorism) by Amir Taheri.
Adler & Adler, 1987
Bound by Minsky 1990
9" x 6" x 1"
Quarter leather, gold stamped spine, lacquered acrylic on boards, flyleaf of foil stamped vellum
"MINSKY" in gold, inside back cover


The Biological Time Bomb
by Gordon Rattray Taylor. The New American Library, 1968
Bound by Minsky 1988
8" x 5" x 6"
Book, live explosives, batteries, timer, electrical tape, photocopy, envelope, collage.
"Minsky 1988" signed in ink, inside back cover
The perils of genetic engineering. The binding brings the danger into the reader's immediate presence. The table of contents is in the envelope, and is intended to be visible when the book is exhibited.


Chemistry in Warfare
Bound by Minsky 1993
8" x 5" x 4"
This copy of the book is from the library of the U.S. Army base in Grenada. Purchased at the Pageant Book Shop, New York. Binding painted camouflage style in acrylics, with matching gas mask and container with toxic ordinance label, printed by ink jet.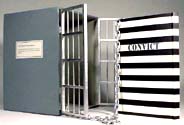 The Bill of Rights
Three unique works, and an edition of 25 sets of ten bookworks representing the first ten amendments to the United States Constitution. Above, The Eighth Amendment. Click on the jail cell to see all the works, and an installation of the exhibition.
Bound by Minsky 1993-2002.


Nineteen Eighty-Four
by George Orwell
Harcourt, Brace & Company, New York 1949
Binding by Minsky 2003
6" x 8½" x 3"
Lizard-grained cowhide, hologram foil stamped title. LCD monitor embedded in cover with miniature black and white video camera hidden behind leather with 1/8" hole for lens. When you hold the book you see yourself on the screen.


Freedom of Choice
Three Poems of Love and Death by Lucie Brock-Broido
Richard Minsky, 2009
73" x 26" x 24"
Inkjet on J. Barcham Green handmade paper with a 1976 watermark, bound in dark teal goatskin with 23K gold title, chained to an oak electric chair. On the inside of the head restraint are three electrodes, and one electrode goes to the leg. An MP3 player on the head restraint plays Minsky's reading of the three poems, two of which concern shotgun suicides and one an electrocution. On the back of the chair is a cabinet containing a 20 gauge shotgun, a Manila hangman's noose, a wakizashi sword, razor blades, poison and a hypodermic syringe.

Pop Delusions
A House of Cards (backed with Chinese money)
Richard Minsky, 2012
10" x 13¼" x 13¼"
Minsky's credit cards, Chinese paper money, 23K gold leaf, binders' board, bookcloth, felt, linen tape, wood, J. B. Green handmade paper, acrylic, $10 bills.
Memoirs of Extraordinary Popular Delusions and the Madness of Crowds by Charles Mackay. Inside the house are two copies of the book, the 1852 edition in the original binding by Burn of Hatton Garden, and the 1963 printing of the 1932 reprint, bound in Minsky's credit cards.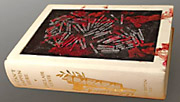 It Can't Happen Here
by Sinclair Lewis. Doubleday, Doran & Company. Garden City, New York, 1935. First Edition.
Richard Minsky, 2017
8⅛" x 5¾" x 1⅞"
Alum-tawed goatskin, gold, panel of 8-point type, acrylic paint, artist's blood.


It Can't Happen Here
by Sinclair Lewis. Doubleday, Doran & Company. Garden City, New York, 1935. First Edition.
Richard Minsky, 2018
8⅛" x 5¾" x 1⅞"
Calf, gold, panel of 8-point type, acrylic paint, artist's blood on Vermont Vigilance.
---
To continue the exhibition, click one of the sections or a button.
Each section has several thumbnail images and descriptions of the works. You can click on any image for a page about that work, with larger pictures and details.
---