The Gallery Archive

The Fourth Exhibition of
American Decorated Publishers' Bindings 1872-1929
[Exhibition ended February 14, 2012]

Welcome to the online gallery.
The real gallery is near Hudson, New York
about 40 minutes southeast of Albany.
This cabinet includes Alfred Brennan's design on Crawford's The Romance of Old New England Rooftops [Page, 1907],
Herman Scheffauer's cover for Bierce's Shapes of Clay [Wood, 1903], the rare gold stamped limited edition of Will Bradley's cover
on Lampman's Lyrics of Earth [Copeland & Day, 1895], Ethel Belle Appel's sexy design on Mary Dickens' Some Women's Ways [Fenno, 1896],
F. R. Kimbroough's 1904 design for John Lane on Wood'sThe Saint & The Outlaw, and what we believe to be the earliest cover design by
Maxfield Parrish, on Bangs' Half Hours with Jimmie Boy [Russell, 1894].
Thank you for visiting the online gallery. This is our fourth exhibition featuring the Golden Age of publishers' bindings. In the previous three exhibitions on this subject, we showed a total of 1,100 designs by 141 known designers and many anonymous ones. We have not finished installing this exhibition, and have not yet decided on whether there will be a printed catalog. You can follow developments on our blog.
The CATALOG of the Third Exhibition is now available.  The exhibition was acquired by The Boston Athenaeum in its entirety.
The second exhibition, with 300 designs, ended November 20, 2008. That entire collection was acquired by The Lilly Library at Indiana University, Bloomington. The fully illustrated catalog of the second exhibition is available in Limited and Deluxe editions and on CD-ROM.
The first exhibition ended in August 2005, and that entire collection was acquired by the University of Alabama. A beautiful and comprehensive illustrated catalog was produced that included high resolution images of all 500 designs in the collection plus many variants, as well as bibliographic information. Essays by Richard Minsky on the aesthetic and historical aspects of this art form provide several methodologies for collecting these works, and demonstrate that artists were doing work on book covers that was prototypical of art movements that arose decades later.
The Limited Edition and CD-ROM versions of the first three exhibition catalogs may now be ordered online.
The Fourth Exhibition of
American Decorated Publishers' Bindings, 1872-1929
The Red Lily has a cover that is likely the work of Lee Thayer of The Decorative Designers. Amber Glints is a rare Denslow design, and we have three variants of The Blessed Damozel, red with white and gold, blue with red and gold, and (not in this photo) the gift-boxed blind stamped limp leather binding with Yapp edges, the design repeated in gold ink on the box cover.

Please note: I welcome comments and corrections on any of the captions or catalog information! Click on contact to send me a message.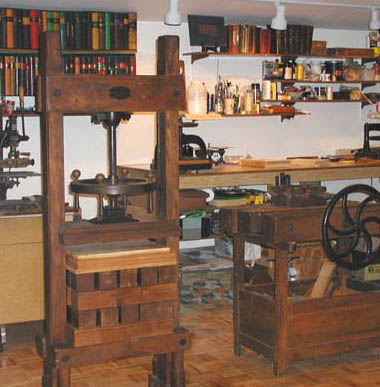 Right: In the bindery
a Bertrand Frères percussion press is on the left,
next to a lying press and plough.

The Masque of the Elements features a cover in bright gold by the author.


Click here for information on ordering the catalogs of the three previous exhibitions

Exhibition Archive:
American Decorated Publishers' Bindings 1872-1929 (ended August 2005)
30 Years of Book Art: 1974-2003 (ended July, 2007)
American Decorated Publishers' Bindings 1872-1929 Second Exhibition (ended November 2008)
American Decorated Publishers' Bindings 1872-1929 Third Exhibition (ended June, 2011)
---
To continue the exhibition, click one of the sections or a button
Each section has several thumbnail images and descriptions of the works. You can click on any image for a page about that work, with larger pictures and details.
---





© 1997-2011 Richard Minsky. All rights reserved.
No photos, descriptions or text on this page may be used without written permission.