It Can't Happen Here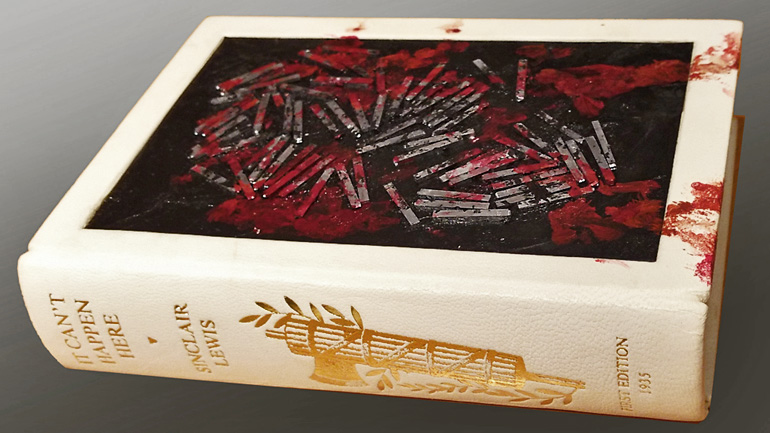 It Can't Happen Here by Sinclair Lewis
Binding by Minsky, 2017. Alum tawed goatskin, gold, 8-point type, acrylic paint, artist's blood.
First Edition, Doubleday, Doran & Company. Garden City, New York, 1935.
8⅛" x 5¾" x 1⅞"
It Can't Happen Here
by Sinclair Lewis

Minsky binding of alum tawed goatskin, 23K gold, 8-point type, acrylic paint, and artist's blood, with Vermont Vigilance endpapers.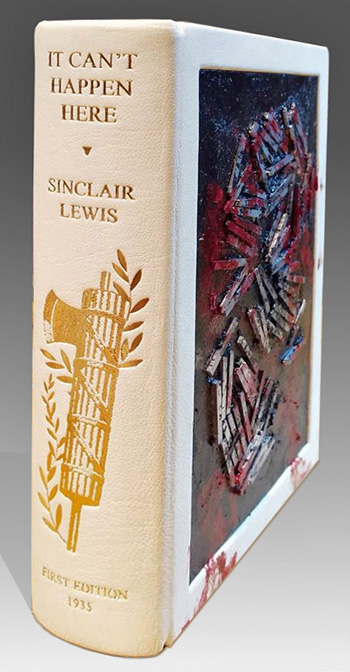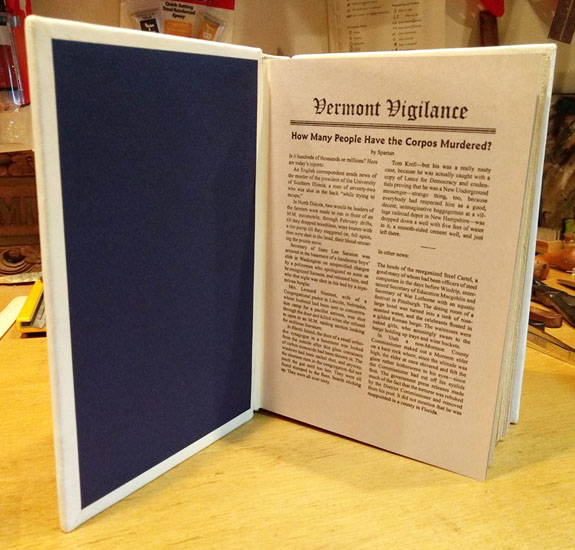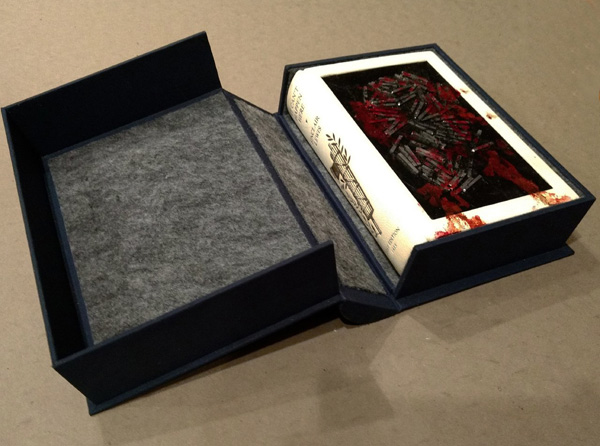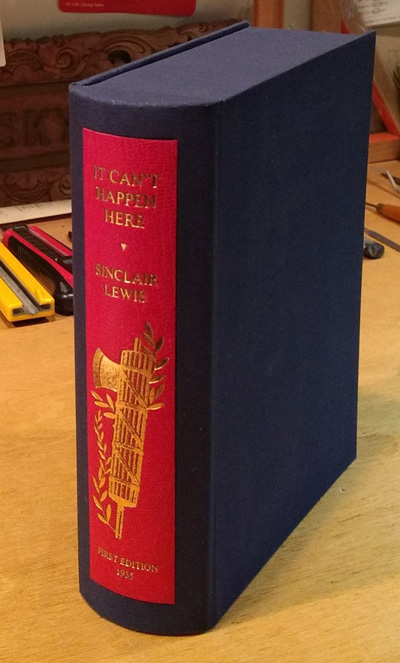 The above work began a series of Minsky bindings on this title, each on a copy of the first edition. The spine design is the same, and the cover concept, but the ararngement of type, blood and paint varies. If you would like to subscribe to the next available one, please use the form below or call.
~
Questions? click to CONTACT Richard Minsky.
To pay by check or institutional purchase order, or for special requests:
To pay by mail with a check or submit an institutional purchase order, please reserve online with the order form below, or by phone. If you prefer to use a credit or debit card, you can. Please read the Terms.
To provide shipping information that includes charging it to your own account, please use the "comments" section of the form below and specify the carrier (UPS, FedEx, DHL) and account number.
If you have any questions, or wish to order by phone, please call (516) 729-9227, or use the contact form.

When filling out this form please check your entries for accuracy, particularly your e-mail address. Additional contact information should be entered in the message box..
Please note: Reservations will be held at the current price for ten days from your confirmation e-mail (Invoice) date pending receipt of payment from individuals. Approved institutions: subscriptions are held at the current price for 30 days pending receipt of payment. Approved not-for-profit institutions are extended 30 days after receipt of the work.
Terms:

1. All items must be prepaid on new accounts. Institutions (libraries, accredited schools, museums) may use purchase orders subject to terms. Please inquire.
2. The form above or telephone may be used to reserve your order pending timely receipt of your remittance.
3. New York residents must include applicable sales tax. Dealers and Exempt Organizations must include properly completed resale or EO certificate.
4. Shipping and handling will be added to orders not picked up in the gallery.
5. You are welcome to visit the Gallery by appointment in Hudson, NY.