Whether you are creating a comic book or graphic novel, a storyboard for a film or
stage play, or just need a better method for developing a plot line . . .
YOU CAN DO A GRAPHIC NOVEL
by Barbara Slate
A guide to creating graphic novels—presented in the form of a graphic novel—from a veteran in the field! In You Can Do a Graphic Novel, Barbara Slate guides aspiring graphic novelists through the same process she learned in her early days working for Marvel and DC Comics—a process she has simplified for the classes she teaches. The book covers all the components and shows readers how to create memorable characters, compelling plots and subplots, and engaging dialog.
Barbara also gives many practical tips to advance the creative process, get useful feedback and deal with the "creative block." This guide is useful at every stage, from the novice beginning their first foray into storytelling to advanced professionals with books in progress. It can be used to create works of every genre—fiction, autobigraphy, history, genealogy and more!
Size: 6" x 9"
Price: $19.95
Publisher: Richard Minsky
ISBN: 9780937258057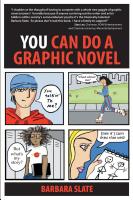 Teachers: Using it as a textbook?
Discounts available for classroom quantities.
Contact us for details.
"Barbara Slate's You Can Do a Graphic Novel teaches step-by-step how to create a graphic novel/comic. I took one look at this insightful, friendly, colorful, and inspirational book and I knew it belonged at Britannica."

—Michael Ross, Senior Vice President and
Education General Manager, Britannica

Click here to order or see inside the eBook

An eBook Teacher's Guide is also available.