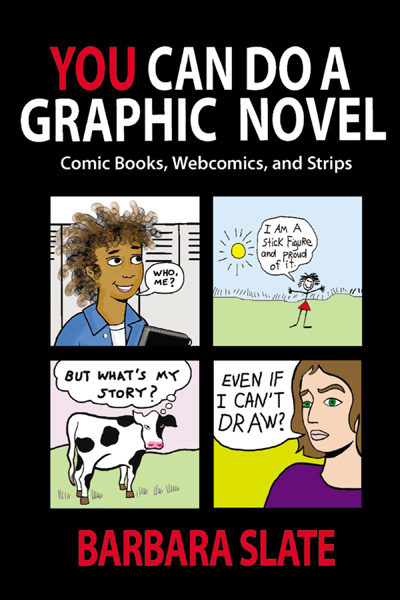 Size: 6" x 9"
Publisher: Richard Minsky
Hardback ISBN: 978-0-937258-08-8 Price: $34.95
Paperback ISBN: 978-0-937258-07-1 Price: $24.95
Available from your local independent bookstore.
Teachers: Using it as a textbook?
Discounts available for classroom quantities.
Contact us for details.
Order on Amazon.com

Whether you are creating a comic book or graphic novel, a storyboard for a film or
stage play, or just need a better method for developing a plot line . . .
YOU CAN DO A GRAPHIC NOVEL
Comic Books, Webcomics, and Strips

by Barbara Slate
NOW AVAILABLE
click here for online ordering
You Can Do a Graphic Novel: Comic Books, Webcomics, and Strips by Barbara Slate shows you how to create visual stories, from a single panel to a graphic novel—presented in the form of a graphic novel.

A 40-year veteran in the field, Barbara Slate guides readers through the same process she learned in her early days working for Marvel and DC Comics—a process she has simplified for the classes she teaches.Learn how to create memorable characters, compelling plots, subplots, and engaging dialog. She shows the secrets to laying out eye-popping pages, and breaking into the business. Learn to trust your creative process—in whatever you do.

Barbara says, "Even if you think you can't draw, you can learn how to find your own style." Her method is informed by more than a decade teaching in libraries, schools, art centers and universities. Barbara revised, enlarged, and expanded on the content of her 2010 paperback, You Can Do a Graphic Novel, with the knowledge she has gained in eight years using it in classes and workshops.

Her new approach is based on creating a six-page story. She says, "If you can do a six-pager, you can do a graphic novel." This new edition includes a series of "Prose from the Pros," with advice from twenty professionals in comics, strips, webcomics, and graphic novels. A new chapter has tips on overcoming the psychological Saboteurs that prevent you from finishing your book, and the book includes examples of work by students from 8 years old to 65.
Barbara also gives many practical tips to advance the creative process, get useful feedback and deal with the "creative block." This guide is useful at every stage, from the novice beginning their first foray into storytelling to advanced professionals with books in progress. It can be used to create works of every genre—fiction, autobiography, history, genealogy and more!
And there's advice from 20 Pros in the field!
Barbara Slate created Ms. Liz in 1976, a cartoon character representing the liberated woman who speaks her mind. Ms. Liz comic strip ran in Cosmopolitan and was an animated segment on NBC's TODAY show for two seasons. She has written hundreds of comic books and graphic novels for DC, Marvel, Archie, Disney: Barbie, Beauty and the Beast, Pocahontas, Betty and Veronica and created Angel Love, Yuppies from Hell, Sweet XVI, Getting Married and other Mistakes. She is profiled in A Century of Women Cartoonists. A resident of Stockport, NY, she travels extensively nationwide as a keynote speaker, teacher, and moderator. http://barbaraslate.com
Industry Trailblazer Aptly Chosen as 'Wildcat Comic Con' Keynoter
If anyone can bring out the writer and artist hidden within society's somnambulant psyche it's the titanically talented Barbara Slate.
Stan Lee
Barbara Slate has captured the creative process with all its tortures and delights, and produced a great guide to anyone who wants to unleash their inner creativity.
Paul Levitz
President and Publisher, DCComics (2002-2009)
Want to turn your teens onto your library? Barbara Slate's You Can Do a Graphic Novel may be just the ticket. Having written hundreds of story lines for perennial favorites like Betty, Veronica, and Barbie, along with her own creations like DC Comics' Angel Love, Slate knows comic books.
Lauren Barack
School Library Journal
Attention, hopeful comics writers: Barbara Slate has given you a helping hand with You Can Do a Graphic Novel, a colorful, funny, and user-friendly way to attain your goal. With Slate's perfect combination of brightly illustrated tips and no-nonsense rules, you'll find that you can do a graphic novel!
Trina Robbins
Comics Creator and Historian, Author of Pretty in Ink
Barbara's exciting book brings to life in a wonderful colorful format her careful, yet joyful, instructive and imaginative method of teaching the graphic novel that I experienced during her classes at our local library.
Jeanne Leonard
Director, Children/Teen Programming
Claverack Library, New York