Catalog of
The Barbara Slate Archive

Photographed and described by Richard Minsky

The cover panel is a self-portrait by Barbara Slate
Spine title in 22K gold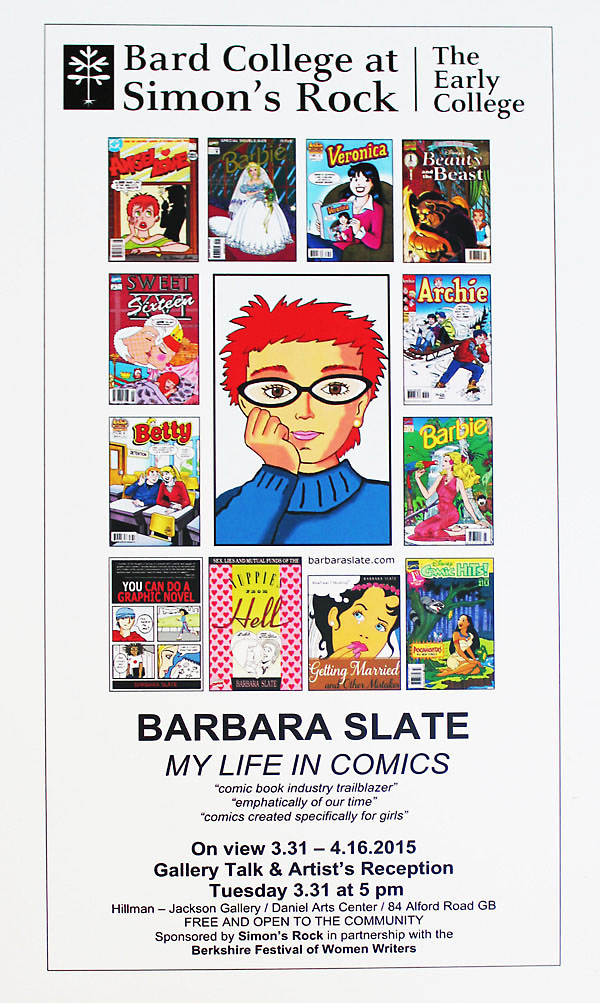 Exhibition poster, 2015.
Visit the Barbara Slate website
READY TO ORDER? SCROLL DOWN OR CLICK HERE.
If you would like to see a copy of the catalog, click institutions with copies.
The Barbara Slate Archive occupies an estimated 35 cubic feet of material, which includes copies of all published works, scripts, layouts, editorial comments, drafts, revisions, original art, press clippings, ephemera, and born-digital materials archived on a 2 TB portable drive. It also includes many unpublished works, screenplays, and commissioned projects, and a pair of roller skates.

Barbara Slate is praised as "emphatically of our time" by The New York Times, "titanically talented" by comics legend Stan Lee, and "a groundbreaking artist" and "industry trailblazer" by the Pennsylvania College of Technology, which brought her in as Keynoter for their third 'Wildcat Comic Con.'

She is best known as a pioneering feminist cartoonist bridging mainstream and alternative comics. Her creation of the empowering character Ms. Liz in the mid 1970s propelled her to wide recognition when it was adopted as a series of animated features on NBC's TODAY show in 1982. The Archive includes the videotapes of these segments, including interviews of Barbara by Jane Pauley and Bryant Gumbel.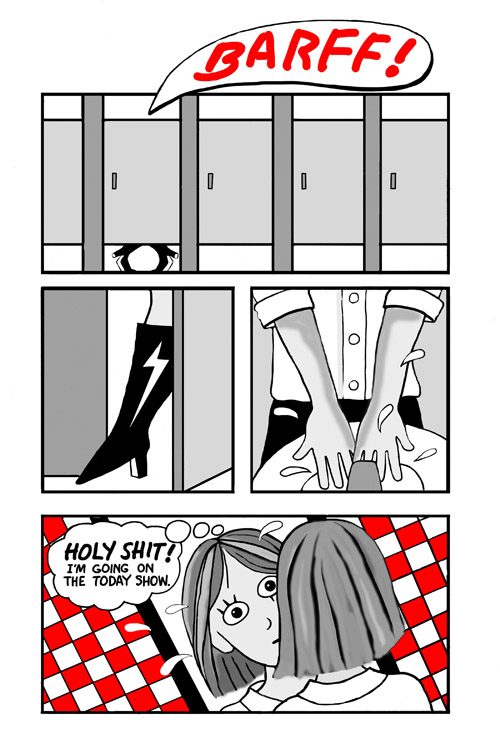 Draft page from Barbara Slate's autobiography (in progress, 2018)
Reproduced in Catalog of The Barbara Slate Archive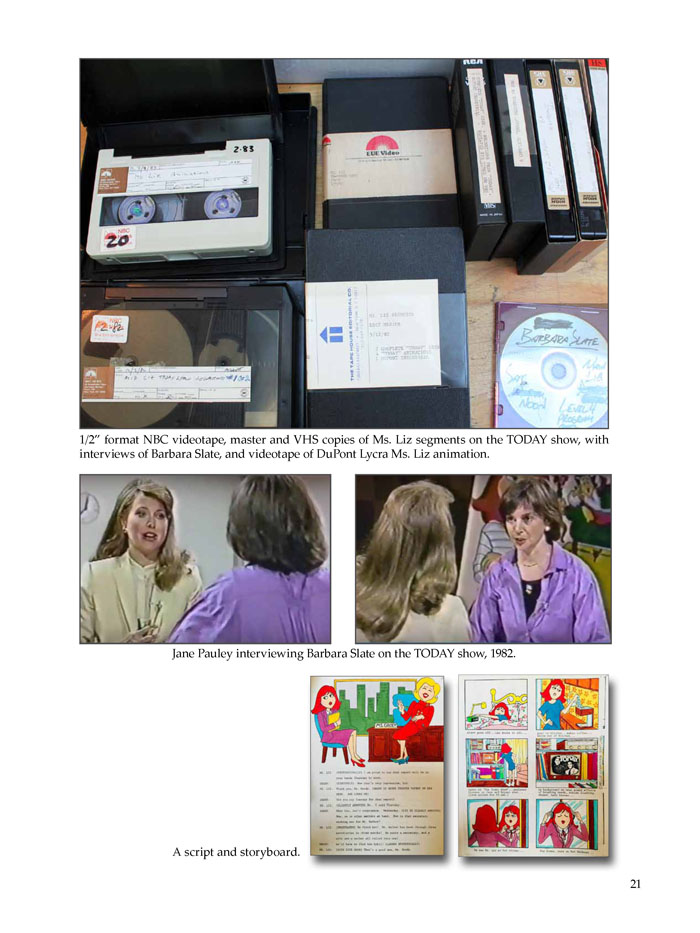 A Ms. Liz page in Catalog of The Barbara Slate Archive
Ms. Liz was created originally as a line of feminist greeting cards that was issued in 1976. The character developed into a comic strip for the liberated woman that dealt with conflict between traditional and new values. It was featured in Cosmopolitan, Self, New Woman, and Working Woman magazines, and was an animated feature on the TODAY show for two seasons.
Because of its interdisciplinarity, The Barbara Slate Archive has material for researchers and students of
comics and graphic novels
women's and gender studies
creative writing
book history
literature

publishing
zines
art process
character development
plot development
For business, entrepreneurship and economics students it shows in much detail
the business of producing comics and books,
merchandising and monetizing characters
adapting to different media.
For film/TV and animation students it shows
the process of transforming a proposal into a script and a storyboard
in the example of Ms. Liz, into the finished animated series on the TODAY show.
Barbara Slate's graphic novel Angel Love was presented by DCComics as a 9 part Maxi-series in 1987-88. It was the first mainstream comic for teens to address sex, drugs, abortion, and other social issues relevant to the times.

It's a funny book, wacky in places, using humor to defuse difficult subjects. Set in New York City, there are talking cockroaches who serve the role of the Greek chorus.

Not approved by the Comics Code Authority, the final issue had a "For Mature Readers" notice. Mail in the archive includes letters from girls for whom the tribulations in Angel Love mirrored their own lives.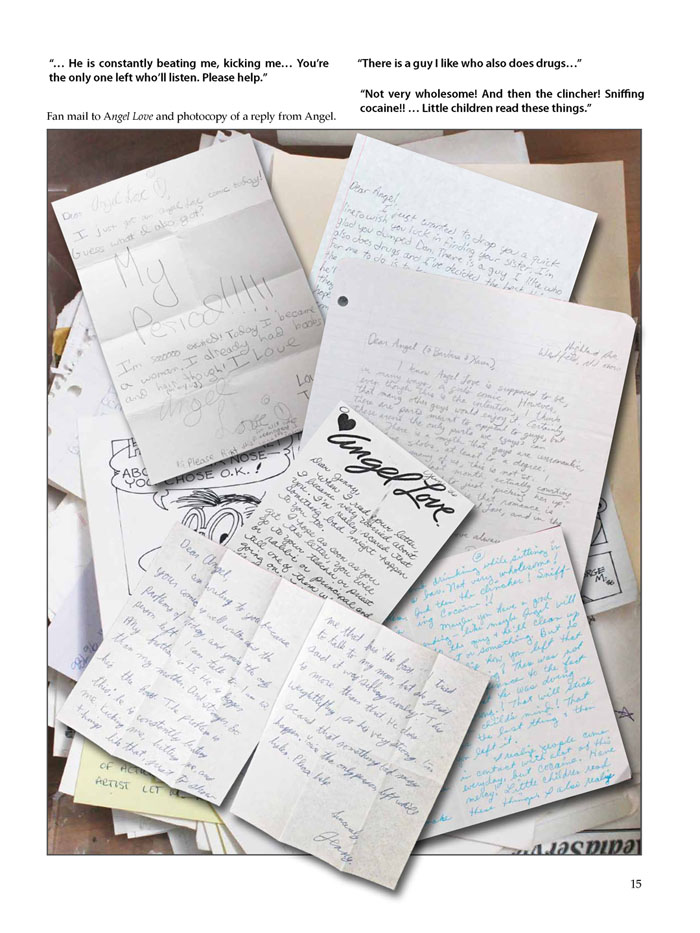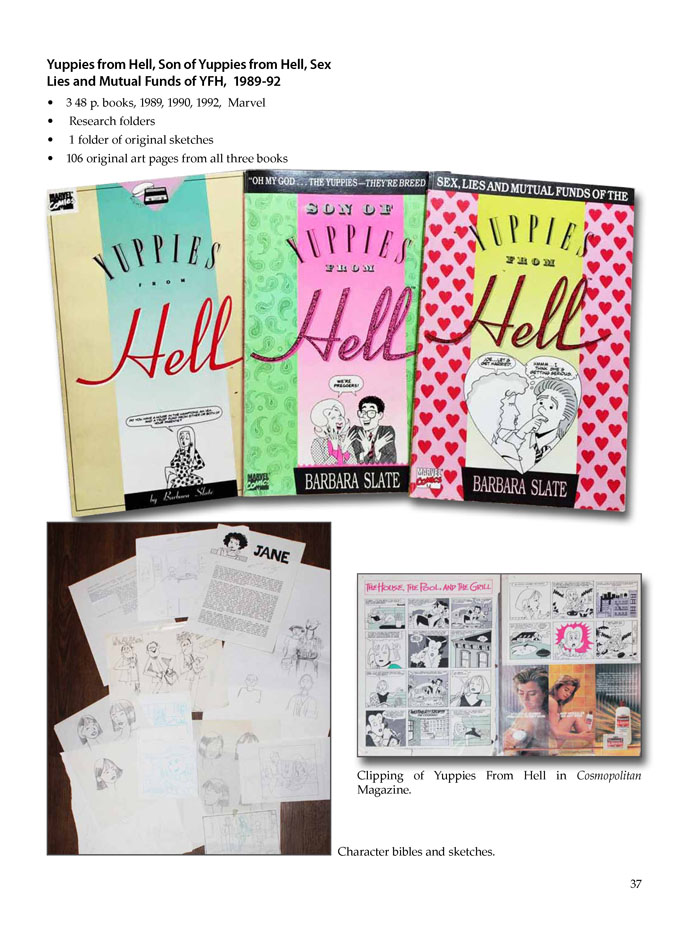 A Yuppies from Hell page in Catalog of The Barbara Slate Archive

Yuppies From Hell, a satirical look into the lifestyle, relationships, and real estate of young urban professionals, was published by Marvel in 1989, followed by Son of Yuppies From Hell (1990) and Sex, Lies and Mutual Funds of the Yuppies From Hell in 1992. Together the three volumes make a 144 page graphic novel.
READY TO ORDER? SCROLL DOWN OR CLICK HERE.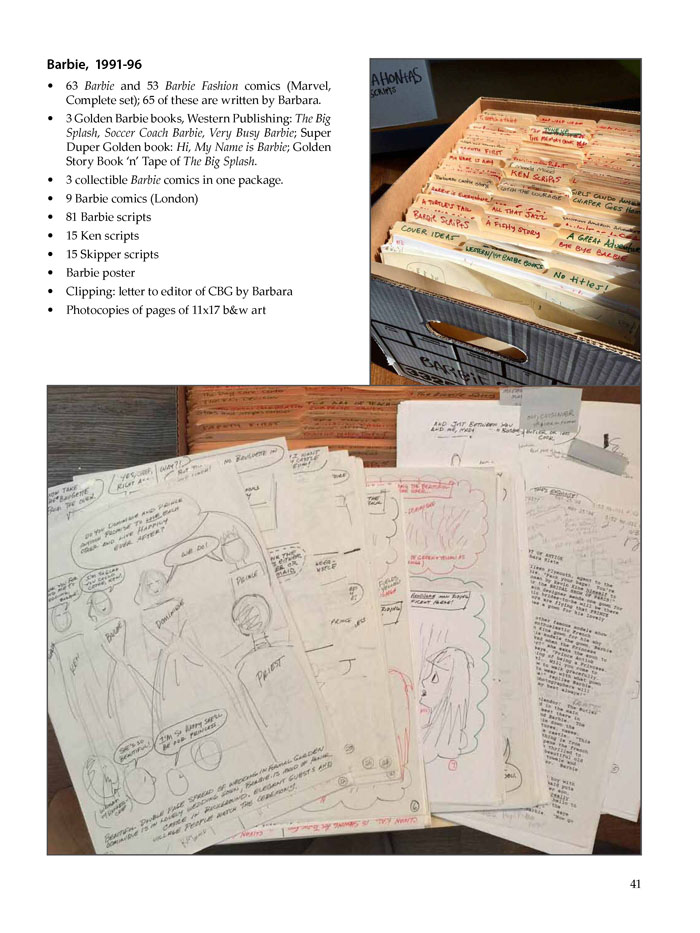 A Barbie page in Catalog of The Barbara Slate Archive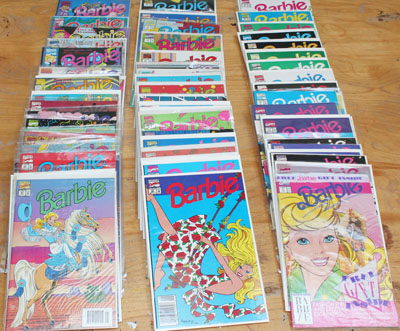 Barbie
and
Barbie Fashion
comics were published by Marvel from 1991-96. Barbara Slate wrote 65 of the 116 issues, in which Barbie could be and do almost anything, setting an empowering role model. In one issue she teaches bookbinding at the Center for Book Arts, in another she's a scuba diver. These comics expand a girl's opportunity set about what a woman can do.
The comics won the Parents Choice award and were praised by
Ms.
magazine.
Two Pocahontas pages in Catalog of The Barbara Slate Archive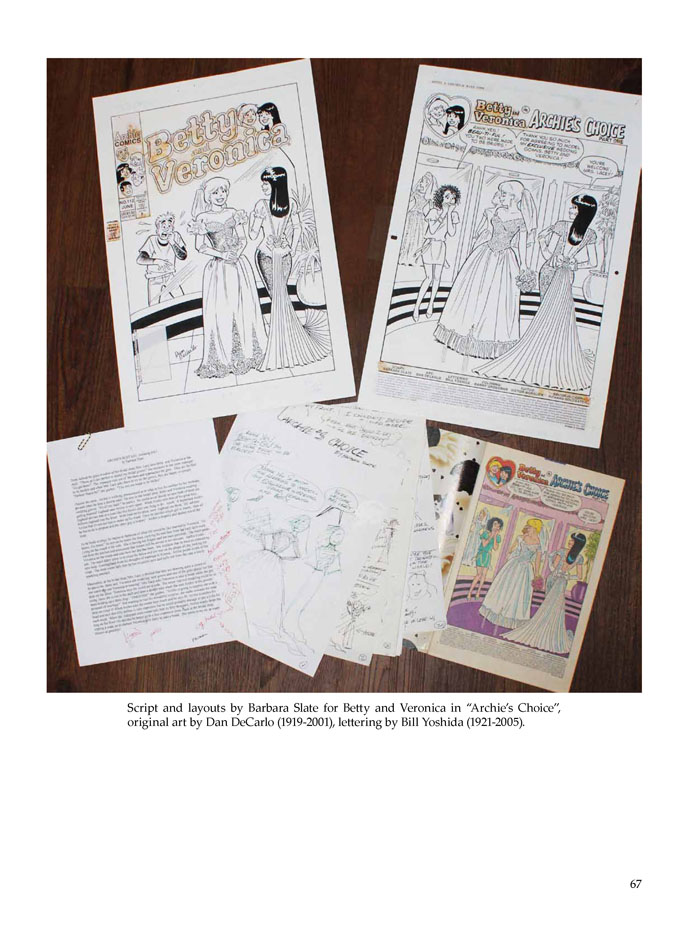 An Archie Comics page in Catalog of The Barbara Slate Archive



From 2003-2013 Barbara Slate wrote more than 150 stories for Archie Comics, mostly focusing on the friendship between Betty and Veronica. She did 15 Archie stories, 29 Betty, and 16 Veronica.

READY TO ORDER? CLICK HERE.
Questions? click to CONTACT Richard Minsky.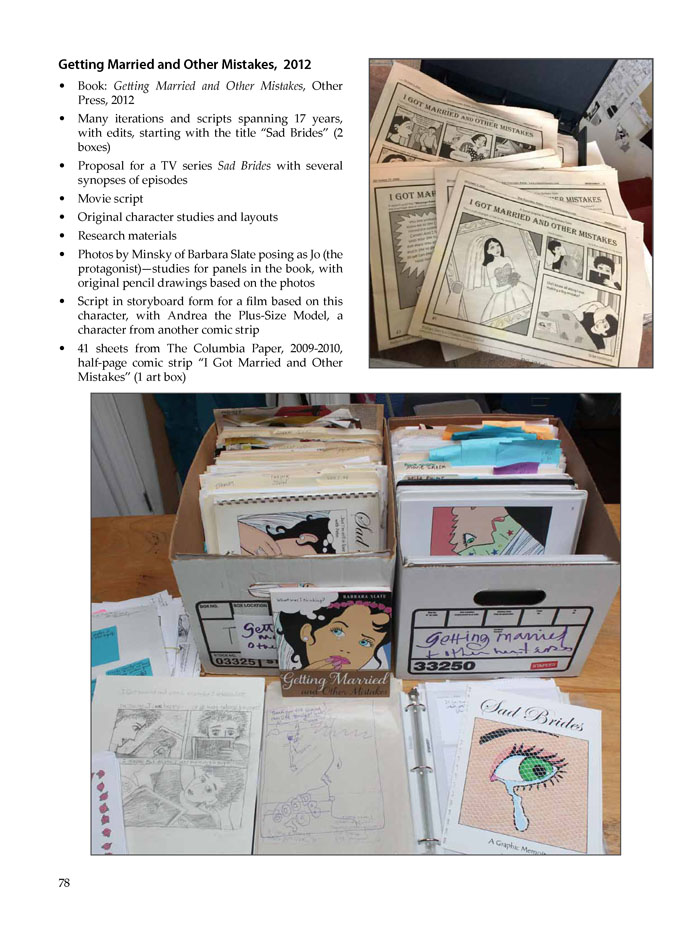 A Getting Married and Other Mistakes page in Catalog of The Barbara Slate Archive
It took 17 years for Barbara to complete Getting Married and Other Mistakes, which was published in 2012 by Other Press. It went through several titles, including Sad Brides, and was serialized as a half-page comic in 41 issues of the Columbia Paper in 2009-2010 as I Got Married and Other Mistakes.
The Barbara Slate Archive includes many other titles and projects, occupying about 35 cubic feet of shelf space. To get a more comprehensive look at her work, visit the Barbara Slate Website.
Download a PDF with sample pages of this title.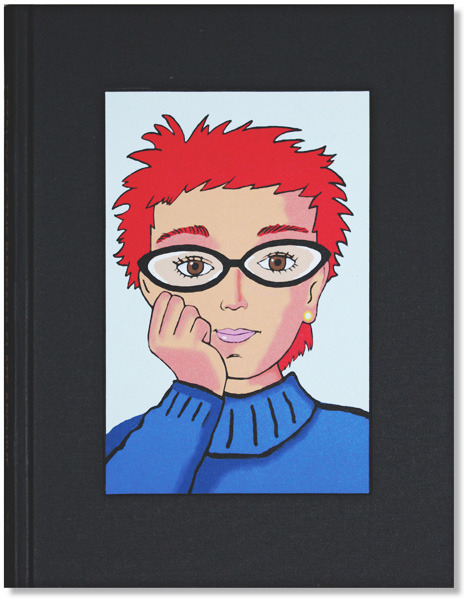 The cover panel is a self-portrait by Barbara Slate
Archival pigment inkjet on canvas
Limited Edition printed in full color on an Indigo 7500 digital offset press, with acid-free paper and archival inks, in a 9" x 12" format, hand bound, sewn with linen thread onto linen/cotton tapes, in a hardcover cloth binding. Spine title in 22K gold. Edition of 50 signed and numbered copies. Please allow two weeks for delivery, as each copy is hand bound on order.
Price: $495.00

| | | |
| --- | --- | --- |
| Catalog of The Barbara Slate Archive | $495.00 | |
If you wish to pay by check, please use the order form below.
~
Questions? click to CONTACT Richard Minsky.
click the View Cart button below to view your order or to continue checkout
International Orders:
The only method of international shipping available through the online ordering system is Express Mail International, which provides tracking and signature confirmation. If you have your own shipping account or other preferred carrier, use the form below and specify the shipping instructions in the Comments area. You can also pay by credit card with that option, and an electronic invoice will be sent to you.
To pay by check or institutional purchase order, or for special requests:
To pay by mail with a check or submit an institutional purchase order, please use the order form below, or order by phone. If you prefer to use a credit or debit card, you can pay online using the secure ordering system by clicking on "add to cart" above for the items you choose. Please read the Terms.
You do not need to be a PayPal member to use the shopping cart. It accepts VISA, AMEX, MC and Discover cards. If you are a PayPal member, it will also accept a transfer from your PayPal account. If you prefer, credit card payments can be processed through Square by phone.
If you prefer to provide shipping information that includes charging the shipping to your own account, please use the "comments" section of the form below and specify the carrier (UPS, FedEx, DHL) and account number.
If you have any questions, or wish to order by phone, please call (516) 729-9227, or use the contact form.

When filling out the form below please check your entries for accuracy, particularly your e-mail address. Additional contact information should be entered in the Message box.
Please note: Reservations will be held at the current price for ten days from your confirmation e-mail (Invoice) date pending receipt of payment from individuals. Approved institutions: if your institution requires payment to be made after delivery, check "institutional purchase order (30 days)" on the form.
Institutional collections where you can read a copy

You may have to make an appointment to read it. Click the links below to read about each institution and their procedures, and click information about the call number and location of that copy of the book. Call ahead and ask about the procedure, as it varies from one place to the next. If it says "cataloging in process" that copy is not yet available for use. Check with that institution to find out when it will be.

Rochester, NY: University of Rochester Special Collections
Copy No. 8: information

Bloomington, IN: IU Lilly Library
Copy No. 9: information

New Haven, CT: Yale Arts Library
Copy No. 10: cataloging in process

Minneapolis, MN: Macalester College Special Collections
Copy No. 21: information

Minneapolis, MN: Minneapolis Institute of Art, Museum Library Special Collections
Copy No. 19: information

Seattle, WA: University of Washington Special Collections
Copy No. 20: cataloging in process

University Park, PA: Penn State University Special Collections
Copy No. 23: information

Cambridge, MA: Harvard Radcliffe Institute Schlesinger Library
Copy No. 24: cataloging in process

Durham, NC: Duke University Sallie Bingham Center
Copy No. 26: information

Chicago, IL: University of Chicago Special Collections
Copy No. 28: information

Northampton, MA: Smith College Special Collections
Copy No. 29: cataloging in process

Los Angeles, CA: UCLA Young Library Special Collections
Copy No. 36: cataloging in process

Philadelphia, PA: University of Pennsylvania Special Collections
Copy No. 37: information

New York City: Metropolitan Museum of Art Thomas J. Watson Library
Copy No. 38: information

New York City: Columbia University Butler Library
Copy No. 42: information

Terms:
1. All items must be prepaid on new accounts. Institutions (libraries, accredited schools, museums) may use purchase orders subject to terms. Please inquire.
2. The form above or telephone may be used to reserve your order pending timely receipt of your remittance.
3. New York residents must include applicable sales tax. Dealers and Exempt Organizations must include properly completed resale or EO certificate.
4. Shipping and handling will be added to orders not picked up in the gallery.
5. You are welcome to visit the Gallery by appointment in Hudson, NY.