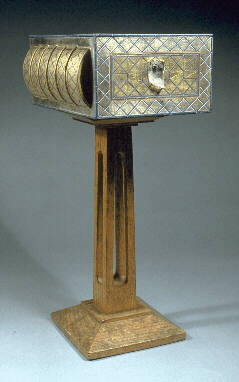 Reliquary for the Ashes of Salman Rushdie's Satanic Verses
Minsky 1993
19" x 8" x 11"

From The United States Constitution series, "The Bill of Rights" section, this work is subtitled The First Amendment.
A Book Burning Kit, containing a copy of the First American Edition of the book, incense and matches. Lemon Gold leaf, White Gold leaf, ink and lacquer over bookbinders' board; Crystal Quartz, cut and polished Agate, emerald cut Citrine; wood base.
You can also see an enlarged image of the above picture.


Click an image to view enlarged details from two different angles.
---
Also in the "Bill of Rights" series:
---
To continue the exhibition, click one of the sections or a button.
Each section has several thumbnail images and descriptions of the works. You can click on any image for a page about that work, with larger pictures and details.