The Decameron of Boccaccio
Translated into English by John Payne
illustrated by Léopold Flameng
1886 Japan Paper Edition
3 volumes 6½" x 9½"

Binding by Minsky, 2020–2022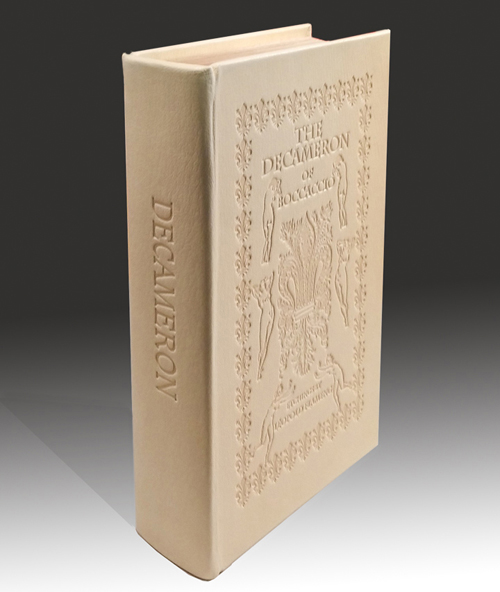 Blind stamped alum-tawed goatskin binding.
March 12, 2020 most of my customers, about 80 academic and museum libraries, closed due to Covid. I was asked to hold orders that were in process because nobody would be there to receive them. Isolated in my studio, The Decameron was the perfect project to keep me occupied through the long pandemic—a 14th century book about the plague in which ten young men and women spend ten days at a country estate outside Florence to escape the Black Death of 1348, and entertain each other telling stories, many of which are bawdy, and hilarious.
I decided on this 1886 edition, the first complete English translation. Previously several of the raunchiest stories had remained in the original Italian or French translation, in order to bypass the British censors. Here is Flameng's etching that illustrates one of the previously untranslated tales, "Dom Gianni and Pietro's Wife."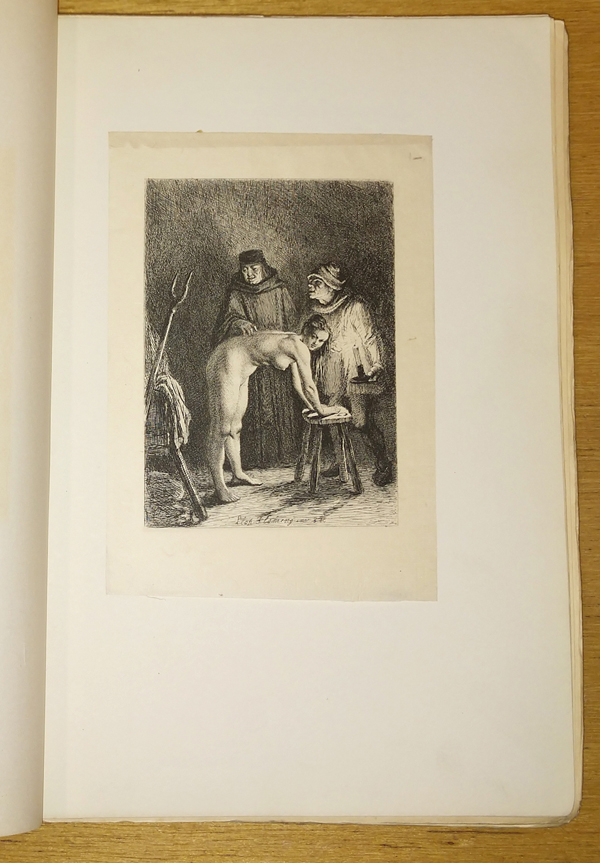 This edition avoided censorship by limiting the circulation to private subscribers.
I expected to find a copy of the 1886 Villon Society edition, but an online search brought up this Japan Paper Edition. No publisher was named. There was no copy of it in any WorldCat library, though there was a Holland Paper Edition that seemed otherwise identical. The library entry suggested it may have been issued by the translator. I ordered the Japan Paper edition, which came in wrappers as issued, clearly meant to be done into a nice binding.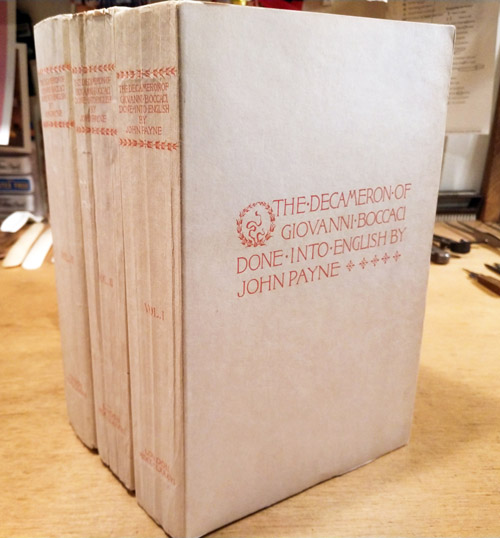 The Japan Paper Edition as it arrived in the original wrappers, which are now bound in.
When a beautiful set of the Holland Paper Edition turned up in the original publisher's binding, I acquired it. The gold stamped cover appeared to have been made with the same die that printed the wrappers above.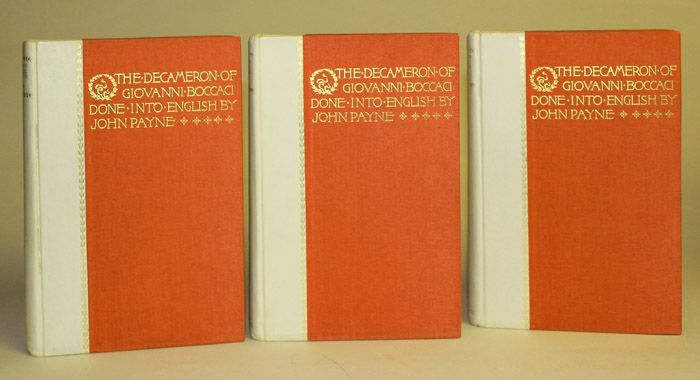 A close examination indicates both editions were printed from the same setting of type.
Thousands of 500 year old books have survived very well in tawed skins. I decided to do a blind stamped design in keeping with the traditional use of that material, and made a repeat pattern border of the Florentine Lily (actually an Iris), symbol of Boccaccio's city, the location of the story. An Internet search for 14th century examples turned up a beautiful one! Fortunately I saved the image, as I was never able to find it again.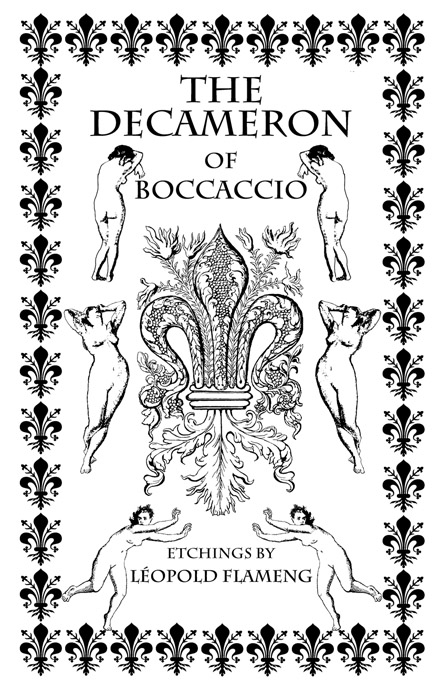 The design uses some of the figures from Flameng's engravings.
Everything had to be redrawn as solid outlines.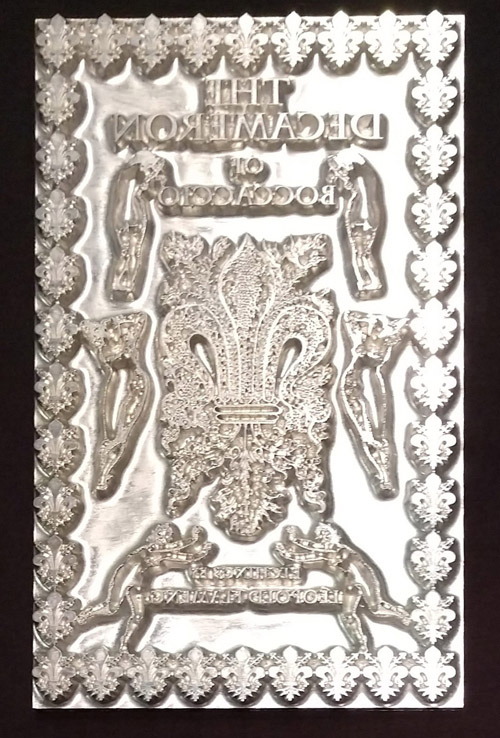 The stamping die.
Trying to find out who published these editions was futile. Was it issued by Payne to secure support for a larger edition? Was he staying anonymous in case the censors were ready to prosecute? Or was it a pirate edition, issued after the Villon Society published it? For now that mystery remains. It took me nearly two years to finish The Decameron, and that's how long many of the libraries remained closed.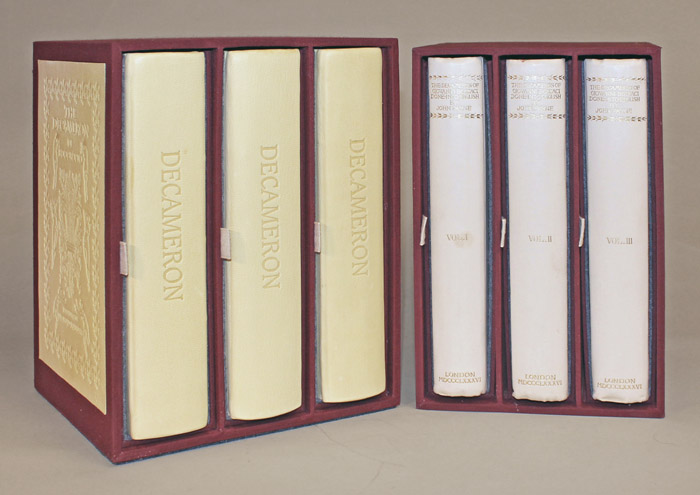 The two sets in their slipcases.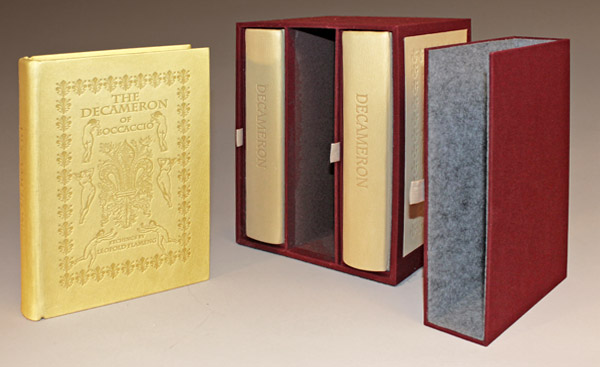 Each volume is in a felt-lined inner tray with open top for easy removal.
The color of the alum-tawed goatskin looks different in different lighting.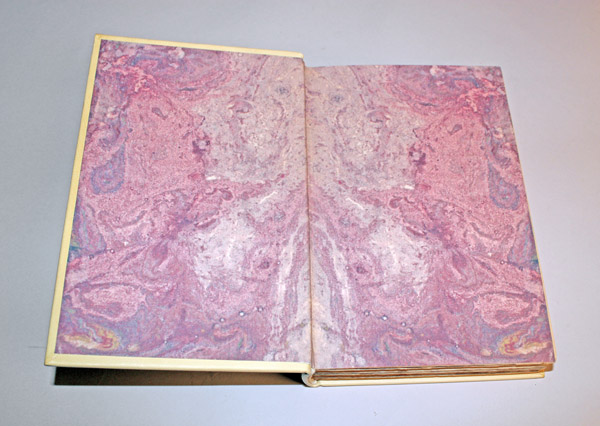 Endpaper in the Japan Paper Edition.

If you would like to see more about this process,

Click here for an album with more than 100 photos
Price: $15,000.00
Please use the order form below or phone.
Questions? click to CONTACT Richard Minsky.
International Orders:
If you have your own shipping account or other preferred carrier, use the form below and specify the shipping instructions in the Comments area. You can also pay by credit card with that option, and an electronic invoice will be sent to you.
To pay by check, card, or institutional purchase order, or for special requests:
To pay by mail with a check or submit an institutional purchase order, please use the order form below, or order by phone. If you prefer to use a credit or debit card, you can pay online by checking "electronic invoice" on the form, or by telephone. . Please read the Terms.
If you prefer to provide shipping information that includes charging the shipping to your own account, please use the "comments" section of the form below and specify the carrier (UPS, FedEx, DHL) and account number.
If you have any questions, or wish to order by phone, please call (516) 729-9227, or use the contact form.

When filling out the form below please check your entries for accuracy, particularly your e-mail address. Additional contact information should be entered in the Message box.
Please note: Reservations will be held at the current price for ten days from your confirmation e-mail (Invoice) date pending receipt of payment from individuals.

Terms:

1. All items must be prepaid on new accounts. Institutions (libraries, accredited schools, museums) may use purchase orders subject to terms. Please inquire.
2. The form above or telephone may be used to reserve your order pending timely receipt of your remittance.
3. New York residents must include applicable sales tax. Dealers and Exempt Organizations must include properly completed resale or EO certificate.
4. Shipping and handling will be added to orders not picked up in the gallery.
5. You are welcome to visit the Gallery by appointment in Hudson, NY.