The United States Constitution Series
The Bill of Rights
limited edition set


An Edition of 25 Copies of a Set of Ten Works by Richard Minsky
The Bill of Rights Edition will be on exhibit at the Louis K. Meisel Gallery April 27-June 3, 2002.
The Third Amendment

No soldier shall, in time of peace be quartered in any house, without the consent of the owner, nor in time of war, but in a manner to be prescribed by law.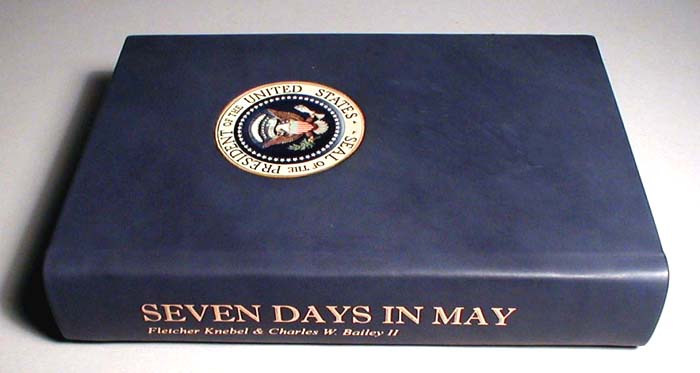 Issued December 27, 2001

The Third Amendment

Seven Days in May

by Fletcher Knebel and Charles W. Bailey, with a dvd of the film starring Burt Lancaster and Kirk Douglas, directed by John Frankenheimer.

The Third Amendment sets a clear boundary on military authority. In this classic story the Chairman of the Joint Chiefs of Staff is seeking to quarter himself in The White House.

Attaché Case: 12" x 14" x 4" (closed). The text of the third amendment is stamped in 23k gold on black board, in a recessed panel inside the felt-lined case cover. There are two compartments, for the book and dvd, each covered in black felt.

The book is bound in blue calf with 23k gold title on spine. Inlaid seal is lacquered inkjet on Rives BFK mounted on 2-ply museum board. Endpapers are blue Canson Mi-Teintes.

Return to
The Bill of Rights
limited edition set

Read the review in The New York Times

Click here to schedule an exhibition

The Bill of Rights edition is in
the permanent collections of
Yale University Arts of the Book Collection
The Art Institute of Chicago
Click the links above to make
an appointment to view this work.

---
To continue the exhibition, click one of the sections or a button
Each section has several thumbnail images and descriptions of the works. You can click on any image for a page about that work, with larger pictures and details.
---







©2001 Richard Minsky