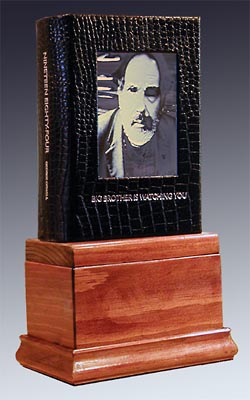 click here or image for more pictures

NINETEEN EIGHTY-FOUR
ORDER FORM
Please use the form below
The form below will reserve a subscription to the Minsky bookwork incorporating a 1949 copy of George Orwell's classic visionary novel Nineteen Eighty-Four. The current price is $12,000.00, which includes packing and domestic (USA) insured shipping.
A deposit of $5,000 secures your reservation, with the balance due on delivery. Estimated delivery time is currently seven months.
This reservation is valid pending receipt of check, electronic transfer of funds, or PayPal. Universities, libraries and museums may use purchase orders.
Each bookwork will be unique. This is a series, not an edition. The common factors will be the black lizard grained cowhide leather, an embedded lcd video monitor, and a camera hidden behind the leather, similar to the one pictured. There are at least three different 1949 editions: British, Canadian and American. The American edition will be used if no preference is specified. The Canadian edition can be substituted at the same price.
There may be variations in form, with the same general appearance and function. The one pictured above preserves the original binding on the book.

Variations include having the slogan "BIG BROTHER IS WATCHING YOU" on the cover or having it unstamped. Some copies may incorporate "video out" jacks, so the same image that the book sees can be viewed from a remote location. That will be particularly useful when the Work is in an exhibition. A larger monitor can be placed, for example, at the entrance to the exhibition, with the slogan "Big Brother is Watching You" under the monitor, and on the screen will be the person then looking at the book inside the exhibition. An additional monitor, cable, or wireless transmitter is NOT included in the price, but can be quoted if desired. Please inquire if you want these features.
If you have a preference for any option, for a specific edition, or an option not offered, please indicate this in the "comments" section on the order form below.
This work operates on a battery pack. It also includes a docking base (shown above) that plugs into 120v ac (USA house current). Other power options (such as 220v) can be provided. The power for the monitor automatically switches to the ac power when the book is placed on its base, and to the battery power when the book is removed from the base. A switch inside the back cover turns the camera and monitor on/off.
For further queries not including an order, please use the Contact Form.

You also can use a credit card or PayPal to reserve your order with the secure online ordering system. Orders within New York State subject to applicable sales tax. Foreign shipping is additional based on address. If you have any difficulty using the shopping cart, or prefer a different payment method, please use the form below. DO NOT ENTER CREDIT CARD INFORMATION IN THAT FORM.
Reservation Deposit for Nineteen Eighty-Four:
Total Price $12,000.00. Balance of $7,000.00 due on delivery.
$5,000.00