Visit the Gallery and Bindery
Welcome to the online gallery.
The real gallery is near Hudson, New York
about 30 miles southeast of Albany.
We are pleased to present an exhibition of
American Publishers' Bindings 1880-1934
This exhibition will not have a printed catalog. Scroll down and enjoy some photos of the installation.
Links to web archives of previous exhibitions are at the bottom of the page, along with information about their catalogs.
For more information about publishers' bindings, visit the blog.
The books all have mylar dust jackets, so there are some reflections of the lights in these photos.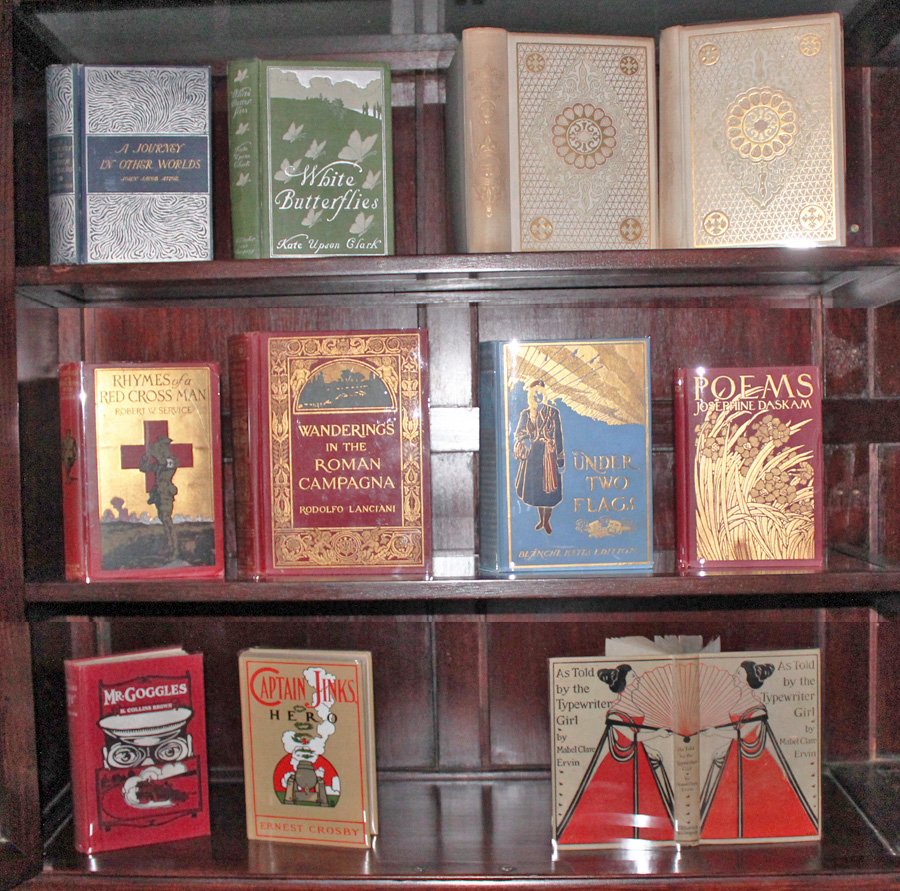 Top right: 1893 Alice C. Morse design on Irving's Conquest of Grenada; below that is Lee Thayer's (DD) 1903 cover on Daskam's Poems;
Bottom right is Blanche McManus Mansfield's 1898 As Told by the Typewriter Girl. Captain Jinks Hero, cover by F. Berkeley Smith, 1902;
Wanderings in the Roman Campagna is Marion L. Peabody; White Butterflies is unsigned, possibly Thomas Watson Ball, 1900, though
Evelyn W. Clark also did work for J. F. Taylor, and used this TWB style for them on another title in 1903. Clark's work is generally
monogrammed EWC, and none are known before 1901. Several designers adopted Ball's styles, including the Decorative Designers
firm, which makes attribution of unsigned bindings more difficult. Ball was an art editor at Harper'sfrom 1894-1900, a title which now
might be called art director, and many of the cover artists had interacted with him.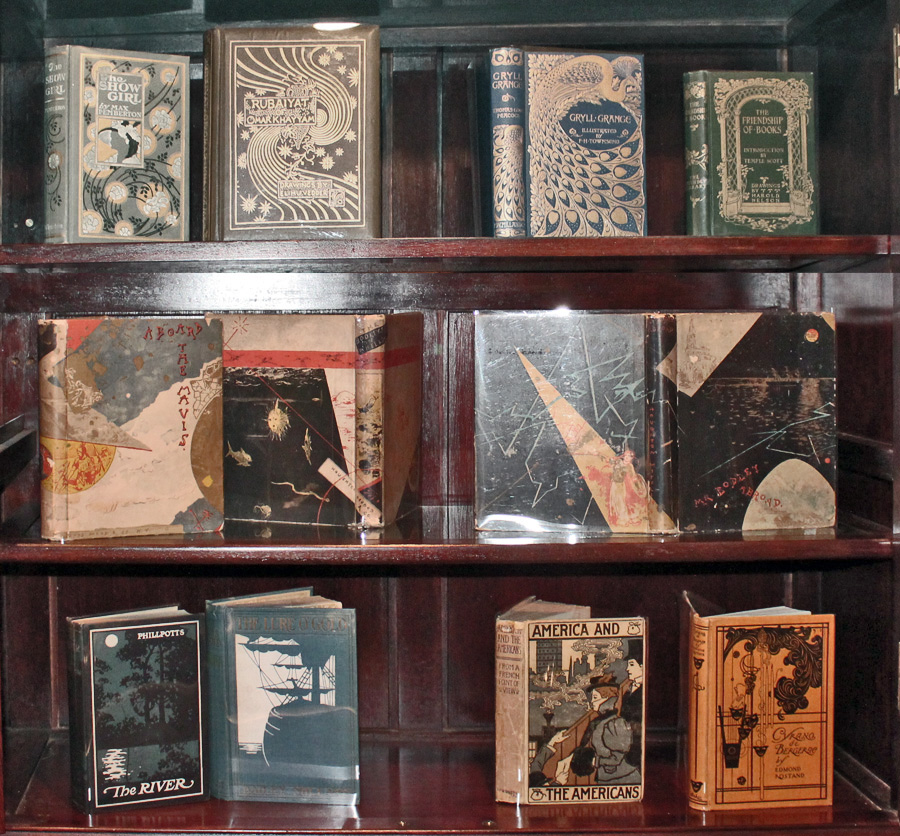 The top row includes Elihu Vedder's Rubaiyat, A. A. Turbayne's series binding for the works of Thomas Love Peacock; and Bertha Stuart's "Friendly Library" series.
The three on the middle shelf are by the unidentified avant garde master, 1880-1881. I suspect John La Farge, or someone of his ilk.
Bottom shelf includes Claude Bragdon's 1902 cover on The River and Will Bradley's 1899 Cyrano de Bergerac.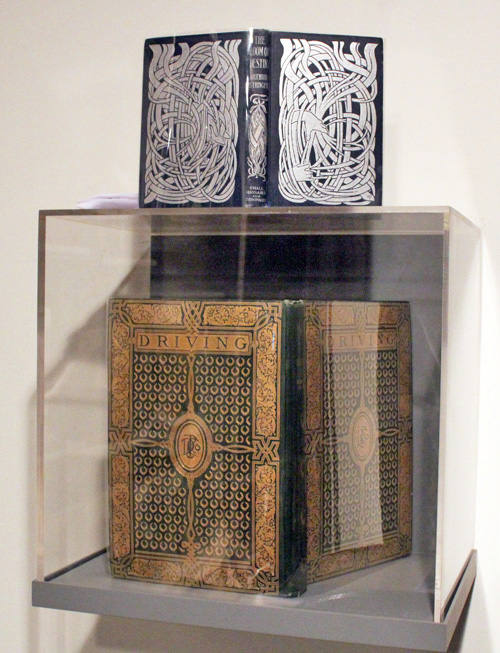 The Loom of Destiny, a Marion L. Peabody design from 1899, is above the classic
Driving, a 1903 design with an unidentified monogram.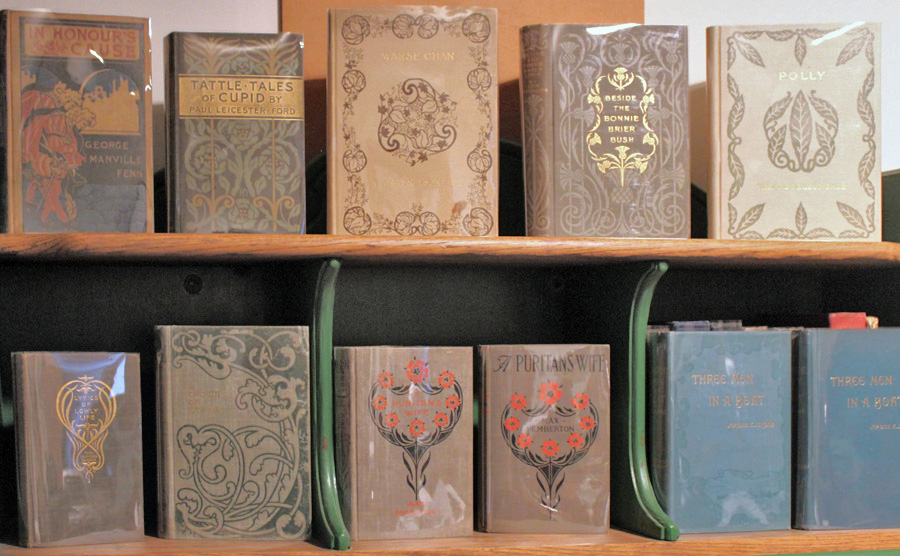 All the above bindings are designed by Alice Cordelia Morse.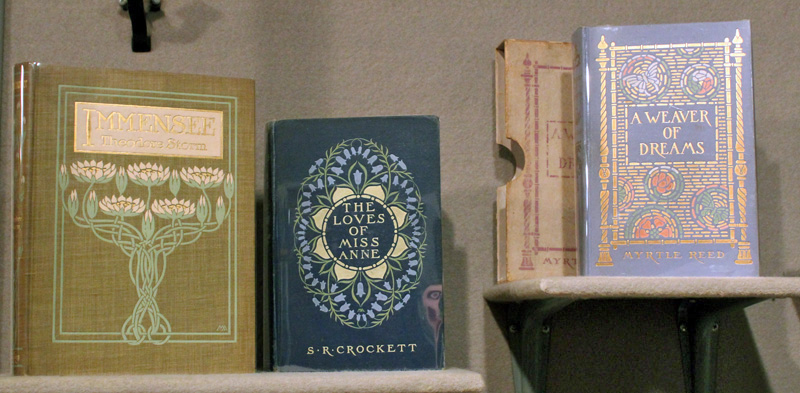 Three by Margaret Armstrong.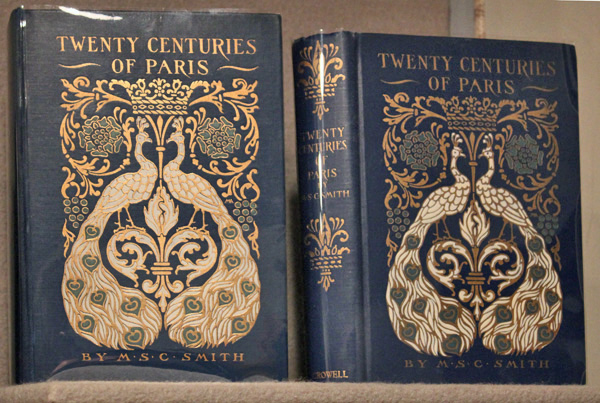 This 1913 Margaret Armstrong peacock design is on the first printing (left) and second of Twenty Centuries of Paris.
The later printing is smaller, and also thinner, with fewer illustrations and without the large foldout map.
MORE PHOTOS OF THIS EXHIBITION ARE IN THE ALBUM.
---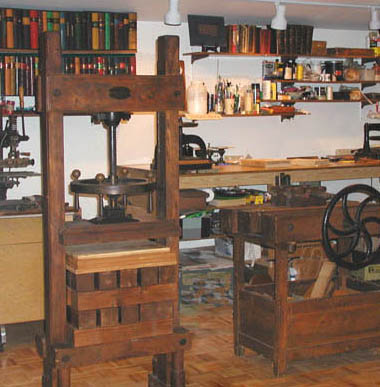 A traditional hand bindery occupies half the gallery building. When visiting you can see work in progress. Click any of the sections below to see Minsky bindings created from 1968 to recently.
To continue the exhibition, click one of the sections
Each section has several thumbnail images and descriptions of the works. You can click on any image for a page about that work, with larger pictures and details.
---





©1997-2014 Richard Minsky. All rights reserved.
No photos, descriptions or text on this page may be used without written permission.